 KRISTEN'S PICK - WINNER
NFL STAR FOLLOWS THROUGH ON SCHOLARSHIP PROMISE
Seattle Seahawks defensive star Richard Sherman is a graduate of prestigious Stanford University and is known in the NFL as one of the more intelligent and outspoken guys playing football today.
Last year, Richard visited Varina High School in Richmond, Virginia, and challenged student Hershai James, telling her that if she made the honor roll, she'd get a college scholarship.
Hershai made the most of the opportunity, achieving a 3.0 average and getting on the school's honor roll.
Sure enough, Richard came through and will fund Hershai's education at Norfolk State University.
When Hershai learned about the scholarship, she couldn't believe her ears and admitted she was in shock.
But, the award to Hershai was just an example of Richard showing that he takes his values of knowledge and education seriously. (Yahoo Sports)
FRECKLES' PICK
According to Pinterest, the hottest accessory this summer will be scented temporary tattoos.
Sure, temporary tats are already a thing, but scented? Who knew? According to Pinterest, searches have gone up more than 450% from last year – so basically that means no one was searching them last summer and now everyone is! If you're looking to get in on the trend, Tattly is the place to get your scented ink on. The tattoos last between 2 and 4 days, depending on how gentle you are with them, and they are completely vegan. (Glamour)
JASON'S PICK
Unfinished Paint Job Leaves Town With "Sex" Sign
The water tower in Sussex, Wisconsin is undergoing renovations. Unfortunately for them, they ran into a hiccup and had to stop painting midway through the project. Now, the water tower reads "SEX."
Jessica Bruss was driving her eight-year-old son to his first baseball game Wednesday afternoon when she heard him say "mom, why does that say sex?'" "I immediately thought, 'not today, we're not having this conversation today,'" Bruss jokes. "I almost drove off the road when I saw it."
"It's not like it's anything pornographic, but it certainly caught the attention of my eight-year-old," Bruss adds. "While I think it's funny for adults, people should remember that kids are seeing it."
What's more, this is only one of the sides of the tower and the contractor can't guarantee that the same thing won't happen again.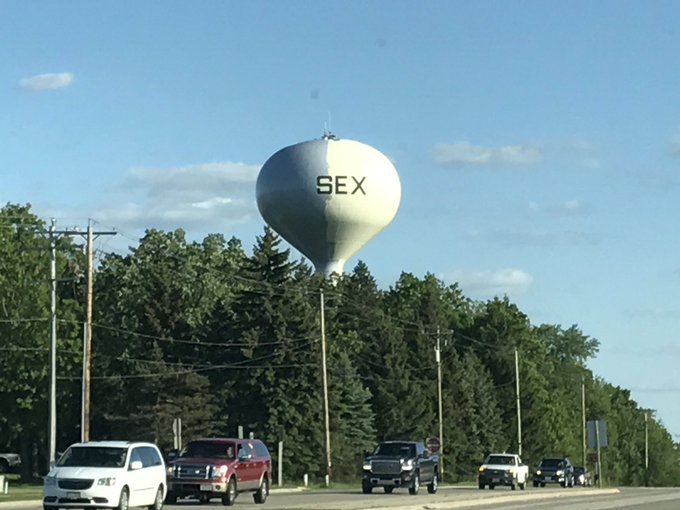 Source: TMJ4
Listen and play along with You Choose The News weekdays at 6:45am