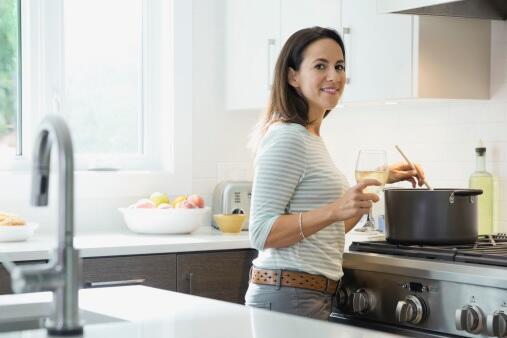 Tired of making the same old five recipes you've been rotating through for months now? We've got you covered. Here's how to break out of that cooking rut and spark your kitchen interest again.
Monday: Browse Pinterest - You'll definitely get inspired scrolling through Pinterest. You can search by ingredient, type of meal, and check out people's boards for meal inspo.
Tuesday: Buy a new cookbook - Before we had Pinterest, we used cookbooks. And if you haven't used one, treat yourself to a new one that appeals to you.
Wednesday: Pick up an intimidating ingredient - Take a lesson from all those "Top Chef" episodes you've seen and challenge yourself with cooking with something new. You may discover your new favorite thing, and if it's a flop, there's always takeout to save you.
Thursday: Recreate a childhood fave - Get creative and take something you loved as a kid to the next level. Like upgrading mac and cheese with peppers and avocados.
Friday: Take a cooking class - Learn how to make your own sushi, or how to make a proper alfredo sauce. Find a class that piques your interest and learn new skills and techniques to show off in your kitchen at home.
Saturday: Crowdsource ideas - Ask coworkers, text friends, and ask for recipes on social media. People are usually more than happy to pass on their favorites.
Sunday: Go back to the basics - Keep it simple with classic ingredients and you can't go wrong.
Source: PureWow