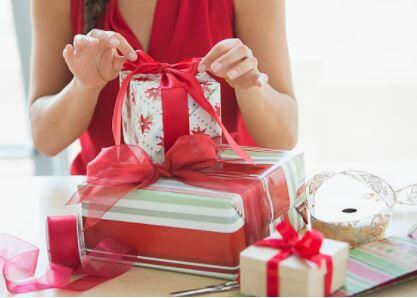 It's October, people. That means it's time to start thinking about the holidays and all the presents we need to buy. Sure, it seems like we have two and a half months now, but that time will fly. So here's a handy timeline for what to buy and when, starting now, so you're not in a rush to get those gifts at the last minute and you get
Buy in October - You might still be able to score some deals on back-to-school wardrobe essentials that are marked way down now. And this is when you'll want to order personalized items, like a name-embossed leather tote, to make sure they'll be here for the holidays.
Buy in November - People are willing to line up in the middle of the night on Black Friday for a reason - that's the best time for the best deals. If you're buying electronics and home appliances, you can find them for a fraction of the retail price on November 24. Plus, if you're hoping to get your kid the season's hottest toy, you can't wait until the last minute, now's the time.
Buy in December - If you're not as picky about what you want, you can find major savings on toys in the weeks leading up to Christmas. You can also find lower prices on tools and gift cards in December, as well as Champagne, which gets discounted ahead of New Year's Eve. Cheers to finishing your shopping early this year!
Source: PureWow