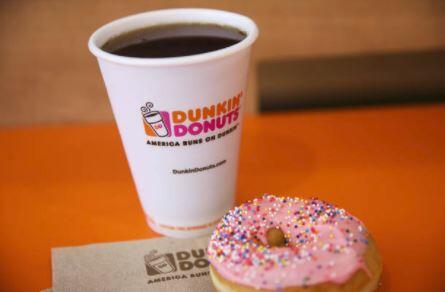 Dunkin' Donuts is taking Valentine's Day seriously by changing up their menu, reworking some old favorites and adding some new treats. Here's what you can look forward to at DD through February 14th:
Vanilla Truffle Donut - It's filled with vanilla buttercream, frosted with vanilla icing and topped with chocolate curls, and naturally, it's heart-shaped.
Brownie Batter Crumble Donut - Also heart-shaped, and filled with chocolatey brownie batter, frosted with chocolate icing and crumbled brownies.
Cupid's Choice Donut - Another heart-shaped donut, this one's filled with Bavarian Creme, frosted with strawberry-flavored icing and sprinkled with pink and white sprinkles.
And Dunkin' is giving some of their existing donuts a Valentine's Day makeover:
Boston Dream - The Boston Kreme you know and love made heart-shaped with a red icing drizzle.
Pillow Talk - A heart-shaped Vanilla Creme donut.
Donut Be Jelly - A classic Jelly Donut, shaped like what else? A heart.
Pretty in Pink - A classic Strawberry Frosted Donut with pink and white sprinkles on top.
Some stores also have Lovestruck Munchkins, chocolate donut holes covered in pink and white sprinkles. And nothing says love like a heart-shaped donut, so head in to Dunkin' before Valentine's Day to get your hands on these sweets.
Source: Chewboom