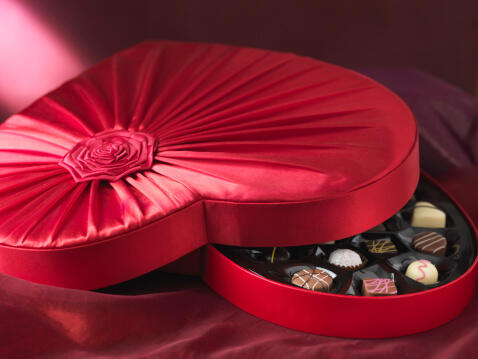 Getting candy on Valentine's Day is great and all, but shop the candy aisles today to score the same delicious treats for a discount. Everything gets marked down after Valentine's Day, so you can save big on heart-shaped boxes of chocolate and bags of red and pink M&Ms that didn't sell yet. And the best part is, candy doesn't care about your relationship status or the fact that you think Valentine's Day is an evil corporate holiday, so everyone can get in on the goodies.
If you're making that post-Valentine trip to find deals on candy, these are some of the newest sweets on shelves that are still worth picking up.
Ghirardelli White Chocolate Crème Brûlée Squares - The chocolate company has really outdone itself with these fancy crème brûlée-flavored white chocolate squares.
Heart-Shaped Peppermint Patties

- These dark chocolate-covered minty treats are even better when they're shaped like hearts and the adorable penguins on the bag don't hurt either.
Hershey's Cupcake Kisses - These Kisses taste like buttercream, cake batter and white chocolate, with a little crunch added in. You won't miss the chocolate in these tiny treats.
Pink Kit Kat

- Now you won't find this one on the shelves at Target, because these new pink Kit Kats are only available in Japan. But you can order online

now and have them shipped. The cool thing about these candy bars isn't that they're pink, it's that they're made with the newest kind of chocolate, made from ruby cacao beans. It's naturally that rosey shade and has a slight berry flavor, so we're totally intrigued.
Reese's Pink Hearts - It's the same peanut butter cups we love, but in millennial pink heart-shapes for Valentine's Day. And they're so good, you'll want a whole bag for yourself.
Skittles Love Mix

- We know you love the pink and purple flavors and that's what this bag is full of. These special Love Skittles come in watermelon, white grape, strawberry, cherry, and yumberry - which is an actual fruit, apparently.
Source: Chowhound