Carrie Underwood In A Different Light ...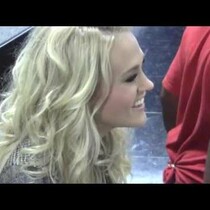 Posted January 27th, 2014 @ 7:34am
I always like to search for new videos from PS22. PS22 is an elementary school chorus from Public School 22 in Staten Island. It's composed of 60-70 fifth graders who audition for a spot. It isn't uncommon for those singers to stop in and sing with this amazing group of kids. Carrie Underwood has even invited them to perform with her at one of her concerts. This is when Carrie took some time to go visit them on their turf! You'll love this! Be aware though...it may make you tear up at the end!!!!!!!!!!!