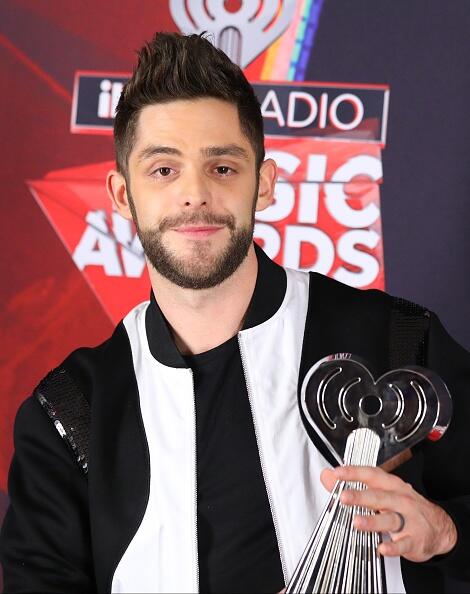 Photo: Getty Images
Dierks Bentley, Thomas Rhett, Kelsea Ballerini and Chris Stapleton were the country big winners at Sunday's iHeartRadio Music Awards. Thomas also put in a performance.
Dierks won Country Song of the Year for "Somewhere on a Beach, " Thomas was named Country Artist of the Year, Kelsea took Best New Country Artist while Chris won Country Album of the Year for Traveller.
Thomas put in a variety show version of "Star of the Show," which started on a couch and ended up with a crew of interpretive dancers flanking him for some reason.
The tightly wound telecast maintained the fast-paced, blink-and-you'll-miss-something attitude it has shown over the years, packing plenty of awards and performances into its two hours of airtime. Producers helped speed things along by presenting a slew of six-second acceptance speeches via Snapchat, while the artists cut to the chase for short, sharp takes on the hits.
In terms of acceptance speeches, most people stuck to the script. Exceptions included Justin Timberlake who took home Song of the Year for "Can't Stop the Feeling" with a speech featuring one bleeped expletive and plenty of kind words for oppressed communities. Chris Martin flipped the script by bringing three of the little kids from Katy Perry's routine on to accept the Best Tour Award as "the other" members of Coldplay.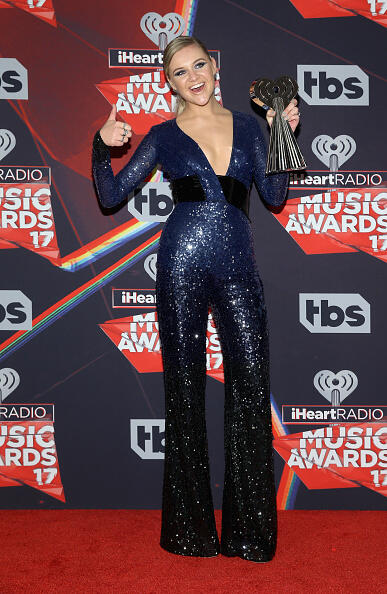 Photo: Getty Images
2017 IHeartRadio Music Awards winners
Country Song of the Year: "Somewhere on a Beach" - Dierks Bentley
Country Artist of the Year: Thomas Rhett
Best New Country Artist: Kelsea Ballerini
Country Album of the Year: Traveller - Chris Stapleton
Female Artist of the Year: Adele
Male Artist of the Year: Justin Bieber
Duo/Group of the Year: Twenty One Pilots
Song of the Year: Justin Timberlake – "Can't Stop the Feeling"
Best New Artist: The Chainsmokers
Best New Pop Artist: The Chainsmokers
Pop Album of the Year: 25 - Adele
Producer of the Year: Benny Bianco
Rock Artist of the Year: Disturbed
Rock Song of the Year : Green Day – "Bang Bang"
Rock Album of the Year: Hardwired...to Self-Destruct - Metallica
Alternative Rock Artist of the Year: Twenty One Pilots
Alternative Rock Song of the Year: Twenty One Pilots – "Heathens"
Alternative Rock Album of the Year: Blurryface - Twenty One Pilots
Best New Alternative Artist: The Strumbellas
Dance Artist of the Year: The Chainsmokers
Dance Song of the Year: The Chainsmokers featuring Halsey: "Closer"
Dance Album of the Year: Collage - The Chainsmokers.
Hip-Hop Artist of the Year
Best New Hip-Hop Artist: Chance the Rapper
Hip-Hop Song of the Year: "One Dance" - Drake featuring Wizkid and Kyla
Hip-Hop Album of the Year: Views - Drake
Hip-Hop Artist of the Year: Drake
R & B Artist of the Year: The Weeknd
Best New R & B Artist: Bryson Tiller
R & B Song of the Year: "Work" - Rihanna featuring Drake
R & B Album of the Year: Anti - Rihanna
Best Tour: Coldplay
Best Lyrics: Justin Bieber: "Love Yourself"
Best Music Video: Zayn – "Pillowtalk"
Best Song From a Movie: 5 Seconds of Summer – "Girls Talk Boys"
Best Fan Army: Fifth Harmony - Harmonizers
Best Lyrics: "Love Yourself" - Justin Bieber
Best Collaboration: Rihanna featuring Drake
Best Over Song: "Ex's and Oh's - Fifth Harmony
Most Thumbed Up Artist of the Year: Drake