 Thomas Rhett kicked off his first headlining tour, The Home Team Tour, less than two weeks ago, and as you might have guessed, he was terrified!
"The biggest show that I've ever put on sale with my name on it was at a little club called Wild Bill's and I think it held 4,000 people," he explains. "So when my team was like, 'I think we should get out and go do this now,' I was like, 'Nope.'"
Thomas goes on to say that he was nervous because he'd been the middle slot for Florida Georgia Line and Jason Aldean and Luke Bryan and that he felt like he was in learning mode. " He adds, "I think I was terrified to go out and have all that pressure be on me." Maybe so, but he's been getting more comfortable and having a ball.
Meanwhile, there are other – far more important things – to be worried about. As we told you before, Thomas and his adorable wife, Lauren, are expecting and awaiting the arrival of the child they're adopting from Africa! The happy couple hit the red carpte at last night's iHeartRadioMusic Awards and while they're beyond thrilled, it's overwhelming – "it's we're pretty much having twins!" Speaking of their adopted child, they're in the final stages and keeping details pretty close to the vest.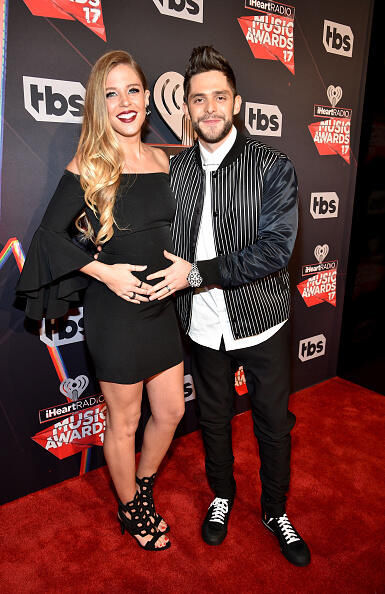 Photo: Getty Images