The 2017 CMT Music Awards are in the books and Keith Urban walked away with the big winner. Keith took home four awards, including the coveted Video of the Year trophy for "Blue Ain't Your Color." He also won Social Superstar, Male Video, also for "Blue Ain't Your Color," and Collaborative Video for "The Fighter," with Carrie Underwood. He also had A LOT of fun with wife Nicole Kidman, showing off some major PDA not only on the red carpet, but before he got up to accept all of his awards he made sure to give her a huge kiss for the cameras. He also thanked her during his acceptance speech for Male Video.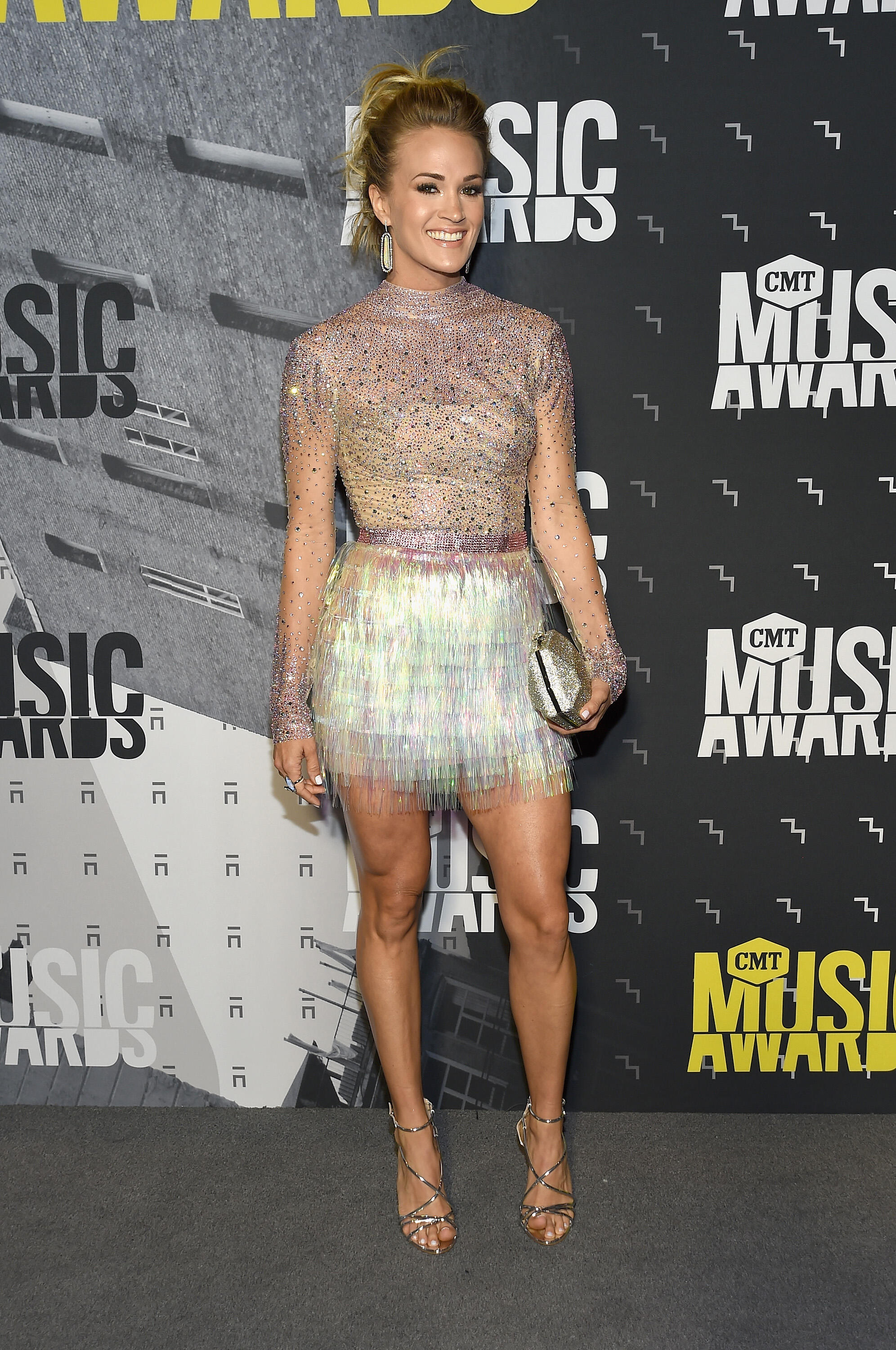 Carrie also too home multiple awards, nabbing two, the one she shared with Keith, and her own trophy for Female Video for "Church Bells." Other winners included Little Big Town, Group Video for "Better Man," Florida Georgia Line, Duo Video for "H.O.L.Y.," Luke Bryan and Jason DeRulo, CMT Performance of the Year, and Lauren Alaina, who picked up the trophy for Breakthrough Video of the Year for "Road Less Traveled" and stole the crowd's hearts as she fought back tears during her acceptance speech.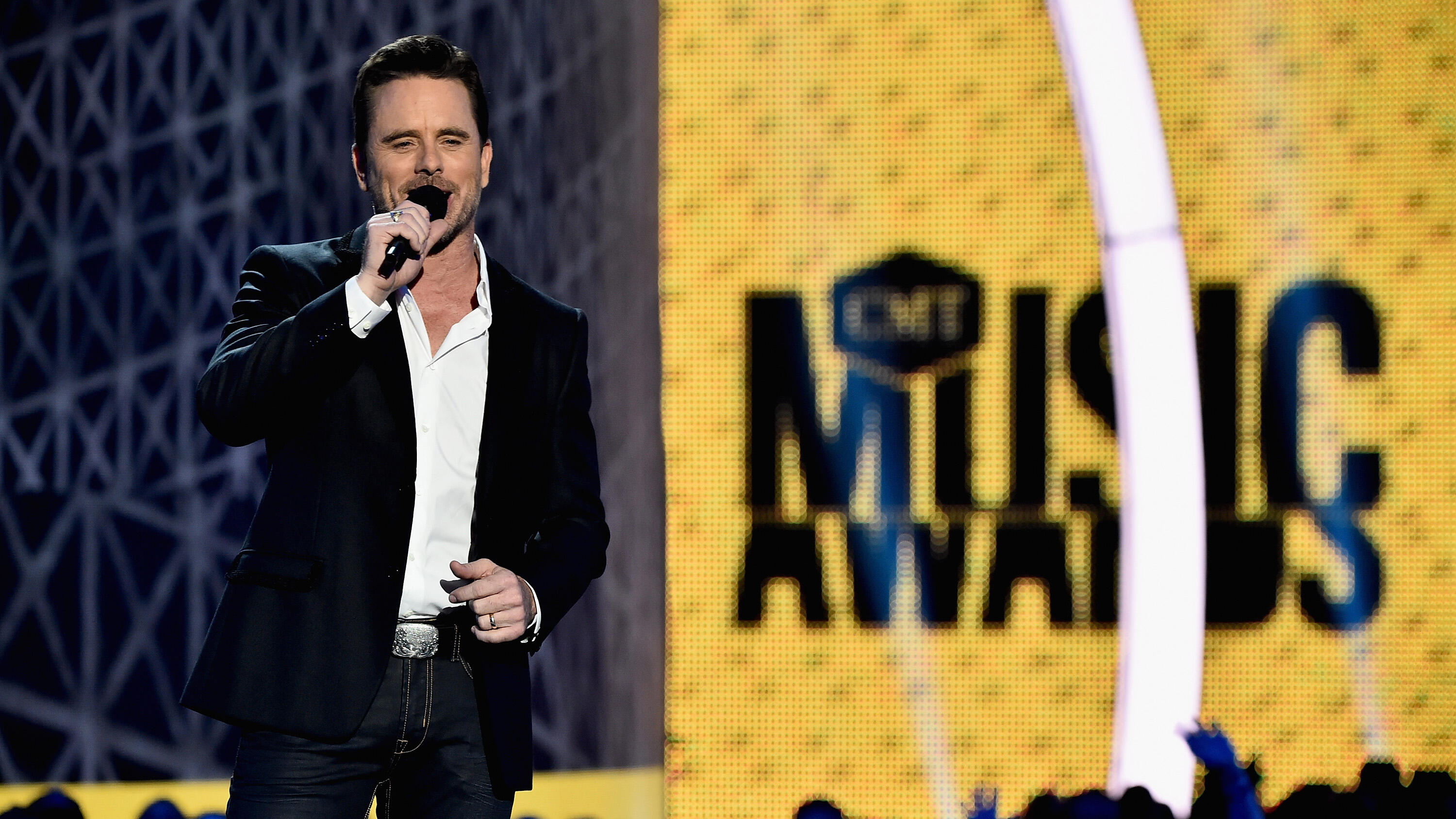 "Nashville's" Charles Esten hosted the show and the night included a sketch with his "Nashville" co-stars, Darius Rucker and several of the biggest names in country music living in Rayna's house, or as Darius explained "Air CMT."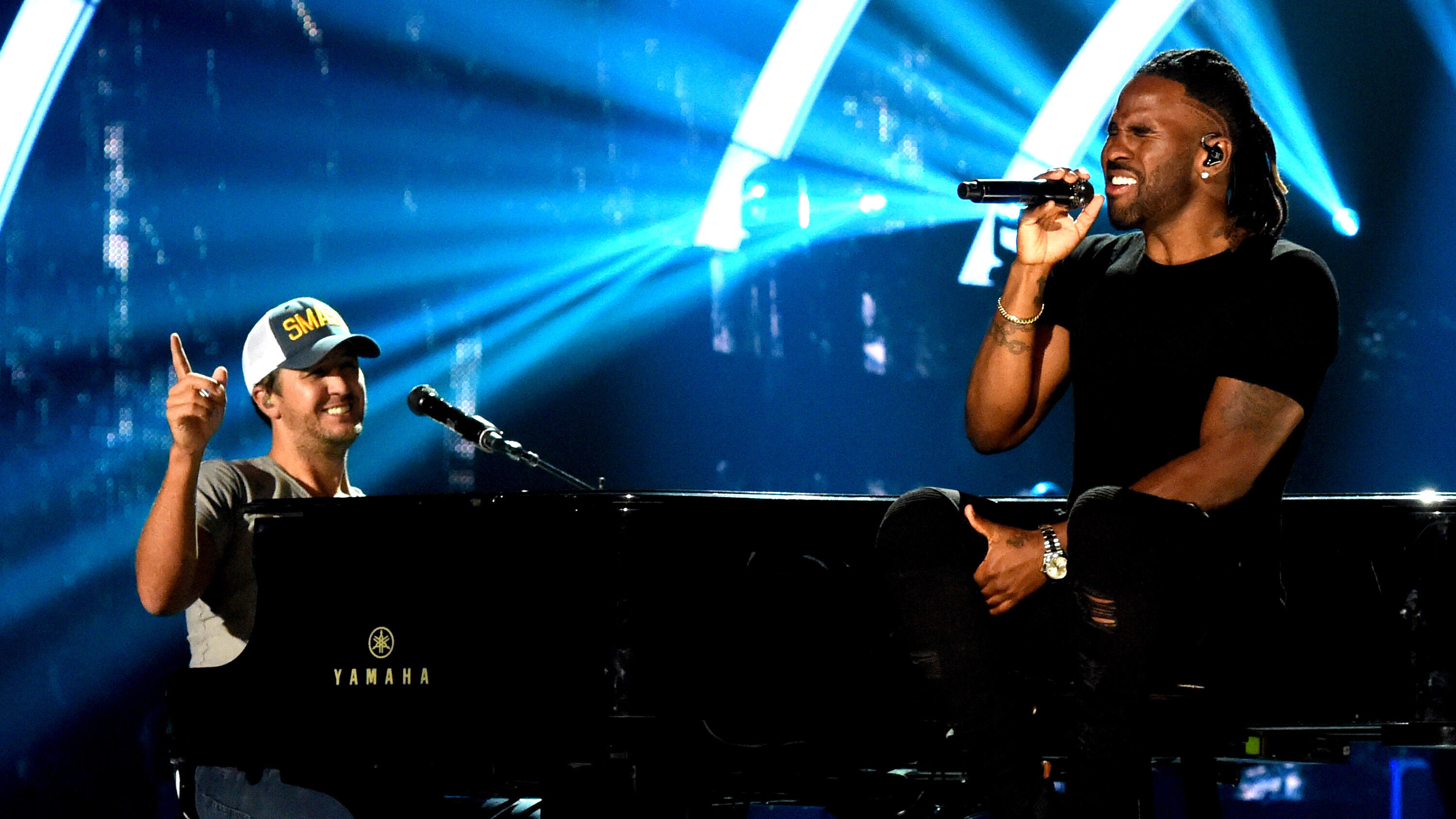 And while yes, there were awards handed out last night, what people are bound to be talking about are the performances, and man the show was chock-full of them. Among the highlights:
The show opened with Darius Rucker, Jason Aldean and Lady Antebellum's Charles Kelley paying tribute to the late Gregg Allman. The trio, who were joined by Allman Brothers Band guitarist Derek Trucks, performed the Allman classic "Midnight Rider," paying proper respect to the legendary artist.
Brothers Osborne teamed up with guitar legend Peter Frampton

for an outside performance of their new single "Ain't My Fault." As you can imagine with Frampton joining in the song featured at least one rockin' guitar solo.
Miranda Lambert lit the place up pink for a sassy performance of her new single "Pink Sunglasses," with folks in the audience, including Jason Aldean, FGL, Darius, Jada Pinkett Smith and more decked out in their very own plastic pink sunglasses.
Thomas Rhett performed his latest single "Craving You" although without duo partner Maren Morris. He wasn't alone on stage though and was surrounded by a group of female dancers.
Since Keith Urban and Carrie Underwood have performed their tune "The Fighter" numerous times they changed things up and performed a great, stripped down version of the song that didn't kick in with a full band until the very end.
The Firestone stage highlighted short performances of some of today's up-and-coming artists including, John Pardi, who played his hits "Dirt On My Boots" and "Head Over Boots," Chris Lane, performing "Fix," Brett Young, performed "In Case You Didn't Know," Lauren Alaina, sang "Road Less Traveled," and Midland performed "Drinking Problem."
FGL shared the stage with The Chainsmokers but not at the Music City Center, where the awards were taking place. Instead, the two acts performed their tune "Last Day Alive" on the roof of FGL's new Nashville restaurant FGL House, ending with a huge pyrotechnic display.
Blake Shelton was pretty mellow on stage performing a straight-forward rendition of his tune "Every Time I Hear That Song."
Brett Eldredge was backed by an entire drum line for his high energy performane of "Something I'm Good At."
Little Big Town

slowed things down a bit for a performance of their ballad "When Someone Stops Loving You."
Luke Bryan and Jason DeRulo revived their winning "CMT Crossroads" performance starting with Luke's "Strip It Down," followed by Jason's "Want You To Want Me," which had them dancing through the aisles.
Kelsea Ballerini took it outside for the debut performance of her new song "Legends," with fans holding lit up signs that read "Legends'" and "Kelsea," as well as their phones as they taped the whole thing.
Lady A closed the show with their new song "You Look Good," and were then joined by Earth, Wind and Fire for the legendary band's classic "September," and just like when it's played at weddings, it got the house up on their feet and dancing, ending the show on quite a high note.
CMT Music Award Winners
Video of the Year
Artists of Then, Now & Forever, "Forever Country"
Carrie Underwood, "Church Bells"
Cole Swindell, "Middle of a Memory"
Florida Georgia Line, "H.O.L.Y."
Keith Urban, "Blue Ain't Your Color" - WINNER
Luke Bryan, "Huntin', Fishin' and Lovin' Every Day"
Miranda Lambert, "Vice"
Male Video of the Year
Blake Shelton, "Came Here to Forget"
Eric Church, "Record Year"
Jason Aldean, "Lights Come On"
Keith Urban, "Blue Ain't Your Color" - WINNER
Luke Bryan, "Huntin', Fishin' and Lovin' Every Day"
Thomas Rhett, "Star of the Show"
Female Video of the Year
Carrie Underwood, "Church Bells" - winner
Kelsea Ballerini, "Peter Pan"
Lauren Alaina, "Road Less Traveled"
Maren Morris, "80s Mercedes"
Miranda Lambert, "Vice"
Reba McEntire, "Back to God"
Duo Video of the Year
Big & Rich featuring Tim McGraw, "Lovin' Lately"
Brothers Osborne, "21 Summer"
Dan + Shay, "How Not To"
Florida Georgia Line, "H.O.L.Y." - WINNER
LoCash, "I Know Somebody"
Group Video of the Year
Eli Young Band, "Saltwater Gospel"
Lady Antebellum, "You Look Good"
Little Big Town, "Better Man" - WINNER
Midland, "Drinkin' Problem"
Old Dominion, "Song for Another Time"
Breakthrough Video of the Year
Brett Young, "In Case You Didn't Know"
Jon Pardi, "Dirt on My Boots"
Kane Brown, "Used to Love You Sober"
Lauren Alaina, "Road Less Traveled" - WINNER
Luke Combs, "Hurricane"
RaeLynn, "Love Triangle"
Collaborative Video of the Year
Artists of Then, Now & Forever, "Forever Country"
Chris Young featuring Vince Gill, "Sober Saturday Night"
Dierks Bentley featuring Elle King, "Different for Girls"
Florida Georgia Line featuring Tim McGraw, "May We All"
Keith Urban featuring Carrie Underwood, "The Fighter" - WINNER
Kenny Chesney with P!nk, "Setting the World on Fire"
CMT Performance of the Year
Jason Aldean, "Hicktown" (From CMT Concert of the Summer)
Jason Derulo and Luke Bryan, "Want to Want Me" (From CMT Crossroads) - WINNER
John Mellencamp and Darius Rucker, "Pink Houses" (From CMT Crossroads)
Alicia Keys and Maren Morris, "80s Mercedes" (From CMT Crossroads)
Meghan Trainor, Jill Scott and Kelsea Ballerini, "You're Still The One/Any Man of Mine/Man I Feel Like A Woman" (from CMT Artists of the Year)
Nick Jonas and Thomas Rhett, Close (From CMT Crossroads)
Social Superstar of the Year
Brett Eldredge
Jake Owen
Keith Urban - WINNER
Kelsea Ballerini
Lauren Alaina
Thomas Rhett