Blake Shelton And Trace Adkins Collaborate For New Single, 'Hell Right'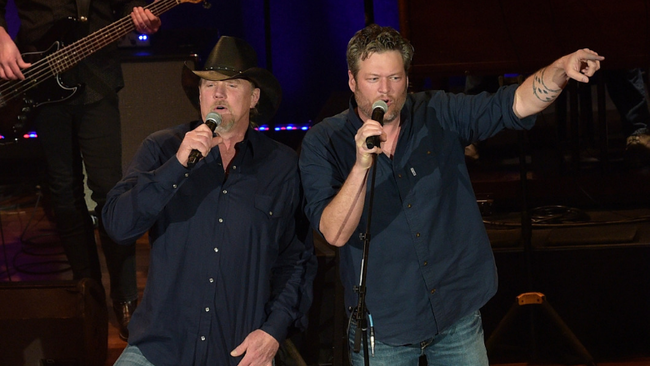 Blake Shelton and Trace Adkins, who previously teamed up for the fan-favorite, "Hillbilly Bone" back in 2009, are back with more. The two just announced their plans to release a new single titled "Hell Right" on Friday (August 16).
The song was apparently presented to Shelton right around a time when he thought he was done in the studio for a while. However, since the song was written by Hardy, who co-penned Shelton's latest No. 1 "God's Country," Shelton decided to give the song a listen.
"The first time I ever heard 'Hell Right,' [producer] Scott Hendricks sent it over to me- and we had pretty much decided that we were finished recording for a while, and I wasn't even thinking about it," Blake shared. "But he said that Hardy had written a song and he wanted me to hear it, so with the success of 'God's Country' and just knowing how talented that guy is, I thought, 'Man I better at least listen to it even though I don't see myself going in and recording.'"
He continues, "About three-quarters of the way through the song, I decided, 'Oh, my god, I'm not done recording. I've gotta go cut this song. It's just so much fun and so infectious. It seems like something that would be great to have out this summer, like, let's do this thing, let's get it out now.'"
Shelton decided to take the track to the next level, making it a collaboration with Adkins. "I decided to have Trace Adkins on this [song] just because he's got that low, deep big voice and he's so great at the ad-lib stuff," Shelton explains.
"He just brings a certain quality to any recording that nobody else can touch. The guy's got so much personality in his voice and the way he sings, and I still think that he's one of the most underrated country artists out there, so I called him and asked if he would be on the record with me and he said something that was close to 'hell right,' but it was a different cuss word."
The new song, "Hell Right" will officially drop this Friday (August 16) at 12 a.m. In the meantime, enjoy a throwback to this duo's 2009 collaboration, "Hillbilly Bone."

Nashville Now
Latest country music news with Kristen Gates!
Read more