Brooke Shields Finds Out That Ron Burgundy Got Studio 54 Shut Down
On this episode of The Ron Burgundy Podcast, Ron Burgundy is so excited to welcome model, actress, and icon Brooke Shields to the studio that he got his back freshly waxed for the occasion, informing his co-host Carolina Barlow proudly that it only cost him "four measly dollars." Carolina notes that his back is bleeding, and that he shouldn't get cheap waxes at low-rate salons. "For your information, this wasn't a salon," Ron replies. "It was an auto collision repair shop/bird breeder. So there." He declares that one of the reasons he loves doing his podcast is because it gives him a chance to speak to other American icons like himself, people like the legendary Brooke Shields. "She began her show business career when she was only 11 months old, as a model for Ivory Soap," Ron tells us. "This blatant disregard for child labor laws catapulted her into stardom." 
Ron starts off by apologizing to Brooke for asking all the same questions she always has to answer, but he has a responsibility to the listeners: "I think people will kill me if I am interviewing Brooke Shields, and I didn't ask you about the big stuff," he points out. "So tell me about your 2013 guest appearance on the ABC sitcom, Super Fun Night." They talk about Brooke's career for a minute, leading Ron to ask her about the first time she felt like a real model. Brooke says it was probably when she got the cover of Seventeen magazine. "First big one for me had to be in 1975," Ron reminisces. "I did a print campaign for Virginia Slims, the cigarettes." At the time, he tells Brooke, he got "a lot of flak" for smoking "lady cigarettes," but "I also have a feminine side, and I think every man does, and they shouldn't be afraid to embrace it." Brooke completely agrees: "I think it just highlights the masculinity in the right way. I think when they work in conjunction with each other, I think that's the sexiest." 
Then Ron asks about Brooke's favorite memories of Studio 54, the legendary New York nightclub that played host to some of the greatest artists, celebrities, and musicians of the 1970s. Brooke loved going there to dance, she says, hitting the floor for hours after events or gigs. Ron tells her he was never allowed inside, instead having to hang out at Studio 52 with "a couple of the guys from Sha-Na-Na." But he got his revenge: "I called some buddies in the IRS and I just made up a bunch of wild stories, and I told them, you know what? They've got cash hidden in the ceiling, and a safe filled with like 300 Quaaludes in it, and I just, you know, I made up a bunch of crazy lies...it was just a wild swing, and it happened to be true."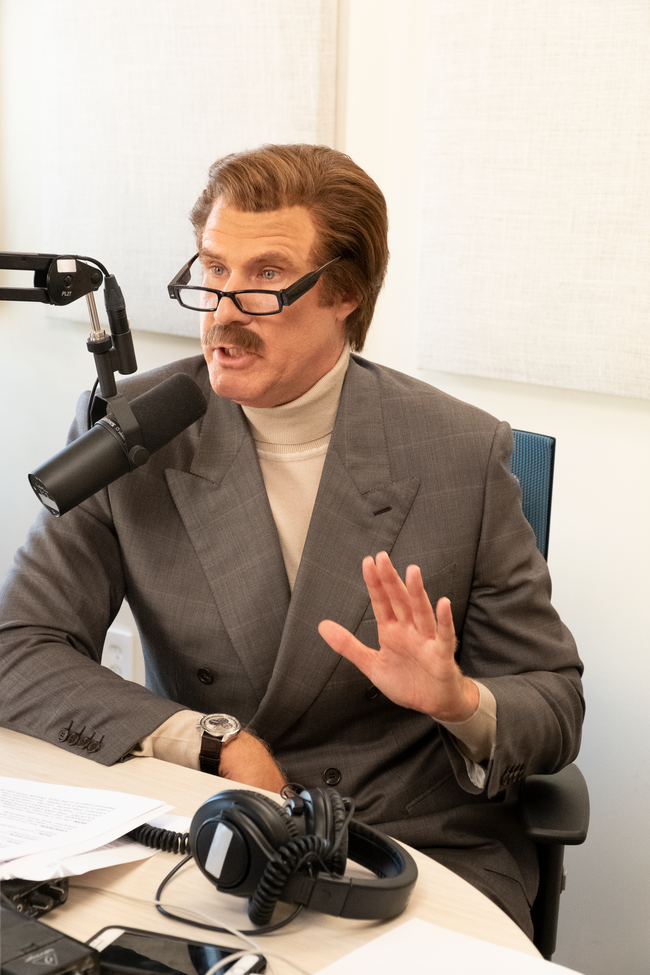 But here was Brooke, hanging out with famous people, making movies, getting rich; why did she decide to leave all that behind and go to Princeton in 1983? Ron asks. Brooke says the modeling and acting "wasn't something I was striving for, it was something I had done my whole life...the idea of attaining something that could not be taken away from you, that was arguably threatening to people...was really exciting to me." Ron agrees that education can be intimidating: "At this point, I try to not hang out with people who are smarter than me because I get sweaty palms." 
Join Ron, Carolina, and Brooke to find out more about Brooke's incredible career, her infamous 1980 Calvin Klein ad, Ron's designs for formalwear for infants ("makes the Met Ball look like an episode of Hee Haw"), and the most starstruck Ron has ever been ("I just gave him a bear hug...and whispered in his ear, 'I'm so proud of you'"), on this episode of The Ron Burgundy Podcast.
If you want to be sure you're listening to the podcasts everyone else is checking out, iHeartRadio has you covered. Every Monday, iHeartRadio releases a chart showing the most popular podcasts of the week. Stay up to date on what's trending by checking out the chart here. There's even a chart just for radio podcasts here, featuring all your favorite iHeartRadio personalities like Bobby Bones, Elvis Duran, Steve Harvey and dozens of others.

Nashville Now
Latest country music news with Kristen Gates!
Read more